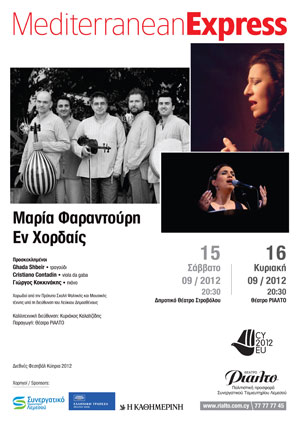 Leading Greek singer Maria Farantouri, meets the music group En Chordais - pioneers in Greece and on the international music scene - in what they are now beginning to be perceived as the musical traditions of the Mediterranean. The International KYPRIA Festival 2012 will host the concert entitled "Mediterranean Express", showing the creative evolution of musical heritage of the Mediterranean and its encounter with World Music and Ethno-Jazz.
Maria Farantouri
Maria Farantouri became known throughout the world as the ideal performer of Mikis Theodorakis, while at the same time playing an important role in the movement to revive Greek music. She often works with acclaimed musicians from Greece and abroad. Her interest and love for musical traditions of the Mediterranean gave birth to the collaboration with En Chordais. Their first concert together was in a packed Salle Pleyel (January 2012), the leading concert hall in Paris.
En Chordais
En Chordais is one of the most important and by now well established music groups in the musical traditions of the Mediterranean, with a vast repertoire and fresh playful presence on stage. It has successfully toured the world, earning triumphant reviews. In 2008 it was awarded the French Radio Prix France Musique des Musiques du Monde, while in 2006 it was the official Greek candidate for the Sharjah UNESCO award.
Ghada Shbeir
Ghada Shbeir is one of the most important singers of Lebanon and the Middle East. She won second prize in 1997 in the World Festival of Arab Music, while in 2007 she was awarded by BBC 3 as the best musician of the Middle East and North Africa. Her close collaboration with En Chordais began in 2001 and together they have appeared in over 20 concerts in Greece, Cyprus, Europe, USA and Canada.
The outstanding musicians from Greece, Lebanon and Italy collaborate on stage, and demonstrate both the relevance of the Mediterranean musical traditions and the artistic interaction of cultures in the course of a long history of coexistence.
In recent years the musical traditions of the Mediterranean have spurred international interest whilst gaining an important place among World Music, a fact which is contributed substantially to the activities of En Chordais.
Participating:
Maria Farantouri
Music Group "En Chordais":
Violin: Kyriakos Petras
Oud: Kyriakos Kalaitzidis
Vocals: Drosos Koutsokostas
Kanun: Alkis Zopoglou
Toubeleki, Bendir: Petros Papageorgiou
Guest Musicians
Vocals: Ghada Shbeir (Lebanon)
Viola da Gamba: Cristiano Contadin (Italy)
Piano: Yiorgos Kokkinakis (Greece)
Also participating: Members of the Protypo School of Chanting and Musical Art under the direction of Lefkios Demosthenous.
Artistic Direction: Kyriakos Kalaitzidis
Box Office Bookings
Nicosia:
Pallas Cinema - Theatre